News - 12 September 2017


Dedicated Team Shelters - By Brechin City FC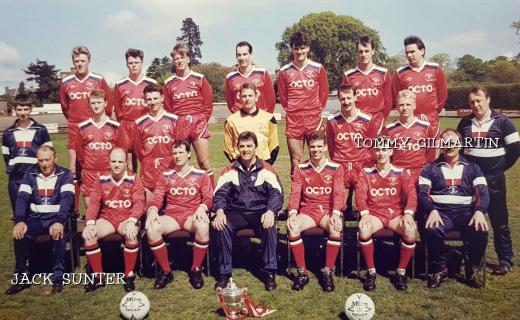 JS & TG Team Photo
CLUB DEDICATIONS TO CITY LEGENDS

Most Brechin City fans will have noticed that the old brick dugouts were replaced with new Team Shelters during the close season. This project was long overdue and was only achieved through supportive funding from an anonymous private donation and a grant from the Scottish Football Partnership. Whilst our budget did not stretch to the modern trend of luxury heated bucket style seating both home and away players have commented favorably on the improvement.
Another long overdue matter was for the Club to duly recognise the service and dedication of two long serving Club backroom staff who are sadly no longer with us. The Home dugout has been dedicated to the Club's former Sports Therapist Mr Tommy Gilmartin and the away dugout has been dedicated to the Club's former Trainer/ Kit Man Mr Jack Sunter.
JACK SUNTER
Jack Sunter was an integral part of the set-up of Brechin City Football Club for over forty years. He started in the early 50s as assistant trainer to Reg Melvin, before taking over the reins on his own in the 60s, serving under nine different managers till the 1992 / 93 season. He was passionate about the club and very protective of every facet of its life, from the kit to the players themselves. He rarely missed a game and the front seat on the team bus to away games was very much his own. From the outside, Jack appeared to be feisty and a little unapproachable but, in fact, he was anything but, and the phrase 'his bark is worse than his bite' summed him up to a tee. If you ever received a rollicking rom Jack – and many people did – you could bet that he'd soon be back with the offer of a sweet or a cup of tea and a biscuit. You couldn't stay angry with Jack for long, as almost everything he did or said was for the good of the club. He was typical of the trainers of his era. His equipment was simple – a washbag with a wet sponge and some plasters. He felt that any injury could be treated with a few rubs of the 'magic' sponge and every wound could be healed with a sticking plaster. Players respected his tough love approach and it was rare to find a player not responding to his on-field treatment.
TOMMY GILMARTIN
Tommy joined Brechin City in 1985 and remained in that rile for 25 years. Tommy dedicated most of life to helping others in his role as a Senior Charge Nurse at Stracathro Hospital and other NHS establishments. Tommy treated and diagnosed countless injuries whether sports related or not across a myriad of individuals who sought him out for treatment. Tommy welcomed everyone with open arms providing a valuable community service from his immaculate treatment room at Glebe Park. Senior players, many of whom rose to the top of the game, received treatment from Tommy during their careers, his memory is fondly held by many in the game.
We are very grateful to everyone who has helped out with this project and especially those who made it possible with their financial assistance. Hopefully it is satisfying for all to see the new structures in place, that will be with us for many years to come and that now proudly bear the name of two stalwarts of the Club.